After several days of rain we finally got a a good day to trench the geothermal lines into the house and start the installation of the heat pumps. Its going to be unusually warm tomorrow (90F) so my wife is "encouraging" the installers to move things along as fast as possible.
Today the trench was opened, the wells were tied together, the supply & return lines were stubbed into the basement, and they even had enough time to fill the trench back in. In parallel the HVAC guys removed the old basement system, removed one of our hot water heaters (but left the 90 gallon one which is enough), and roughed in the geothermal units in the boiler room. Tomorrow they will make more progress on the downstairs system and hopefully start the upstairs system.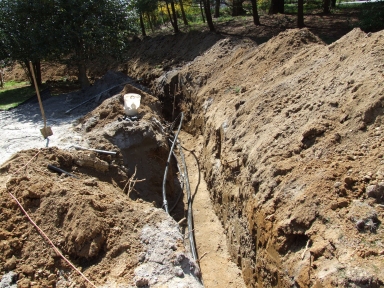 Update – May 9th – The inside installations are progressing but very slowly. It looks like the systems won't be totally completed until next Thursday the 18th. No real issues but its just taking longer than expected. Some real cool looking gear is getting installed in the basement in and around the units so I will post some new pics as things take shape.